Dr. Somesh K. Sharma
is a dynamic, multitalented & multifaceted personality. He is internationally commended Astrological Research Professional and one of the rising stars in astrology in the world, today. With an astrological career spanning 15 years, he has read & predicted for thousands of people who feel uplifted, satisfied, and confident because of his unique insight and keen knowledge of Astrology, Numerology, Vastu-Shastra & Feng-shui, Palmistry and Gemology.
He is Post graduated in the field of Biochemistry and molecular biology and thereafter achieved his 'Doctors in Astrolog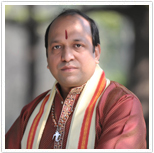 ical Sciences'. One of the beauties of his practice is; his wide understanding of various popular religious believes which helped him greatly to share his expertise for the benefit of people across the globe irrespective of their caste and religion. He has traveled the world shaping thousands of people through new age holistic therapies like crystal healing, Astro-counseling, creative meditation and much more. He now shares his amazing and uncanny insight with his worldwide clientele by giving accurate predictions and remedies through his spiritual powers. Be it Love, Relationships, Children, Work, Finance or any other aspect of life, Dr. Somesh is able to quickly relate to the individual's question and harmonize it with one's activities in both spiritual and physical ways. He is world renowned for his par excellence achievement in the
'WORLD OF ASTROLOGY'
and is aptly known as a
"Person with Midas touch"
.
He is an active member of the various Astrological research associations.
He is a regular columnist and his predictions feature in various magazines. He was interviewed by prestigious news paper
'Gulf News'
in Dubai twice and his positive views on Ancient Indian Sciences were widely appreciated. He has been invited as a guest on talk shows of popular TV and radio channels in India and UK.
Dr. Sharma's specialization of prediction is in field of Business, Finance management, Career, Corporate, Stock Market, Politics, Sports, Films and at personal level including love, marriage, career, health area, too. He is an ardent lover of the spirit of charity for various human causes and he is spreading this beautiful fragrance of humanity through working with various prestigious social and charitable organizations worldwide like Angeli foundation, UK. He is also running a voluntary program worldwide named as
'The Way of Life'
to help and provide a new meaning of life to the old aged persons.
Sri Sai Astrological Research Centre (SSARC)
In the valley of Uttaranchal,
situated on the bank of river Kosi, Ram Nagar is known as DEV BHUMI (land of God). It is also well known for 'Corbett National Park' a famous place for its abundant wild life and green jungles. And there could not be a better place to establish "Sri Sai Astrolo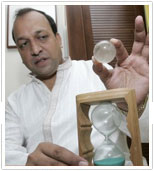 gical Research Centre", SSARC, a wholly devoted spiritual centre in the service of suffering humanity. It was set up about thirteen years back with an aim to carry out research into Spirituality and Ancient Vedic Sciences like
Astrology, Vastu Shastra, Yoga, Yajna and Ayurveda
etc. Under the able direction of Pundit Dr. Somesh K. Sharma (Founder) along with his competent team, SSARC constantly attempts to find out easy and useful solutions for common problems by means of research. Pundit Dr. Somesh K. Sharma, with his vast experience and expertise, has been the inspiration behind the success story of SSARC. Sharma's dedication, hard work and achievements in the field of Astrology, Vastu Shastra, Stone/Gem Consultancy and Palmistry have brought him many awards.
The prime focus of the institution is to carry forward the real spirit and make scientific aspects of the Ancient Indian fields of knowledge, like Astrology, Vastu, Palm Reading, Numerology, Gem Stone prescription, Yantra, Mantra, etc, popular.
Apart from this, we provide Vastu Shastra assistance to various industrial units and companies to enhance their overall physical and mental performance. We regularly deliver corporate seminars for various companies and firms where in we recommend a complete lifestyle suggestions and formulae based on the spirituality and Astro-Vastu tips to the employees of these organizations to help them perform and deliver better results.
Dr. Sharma has helped
minorities and Indians
situated in different parts of the world, like
Mauritius, Holland, Thailand, Sri Lanka, Europe
(France, Belgium, Switzerland, etc), with his unique Astrological and Vastu Solutions. In 2006, he received acknowledgement from East West Community Centre, Leicestershire, for regularly conducting
"The Way of Life"
seminar (TWLS). He was interviewed by the
BBC Asia network
as well. Today, due to logical and scientific approach and accurate predictions, he is being loved by the people across the world irrespective of caste, religion, nationality and profession.
Unique astro-counselling skills
and time-tested
holistic solutions
helped our center to win global clientele comprising from common people to big celebrities such as film stars, singers, artists, sportsmen and politicians who have witnessed a new era of success in their lives after taking our advise.
Upcoming Plans:
Green minds, Green Earth!
That's how we want tomake our earth a better place to live. This is an original concept and the brain child of Dr. Somesh Sharma, which can transform the human lives radically on a positive note.
The center is planning to promote and take forward the legacy of rich Indian culture across the g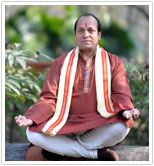 lobe, especially by providing it a strong scientific basis. Dr. Sharma has been working relentlessly to create a
common platform
in Uttaranchal for astrology, Vastu, meditation and other Ancient Indian Sciences, with the help of experts in respective areas. The centre plans to strengthen and extend further these skills by participating timely in various international fairs, meetings and conferences and inspiring foreigners to visit Uttaranchal to learn these sciences at SSARC.
We intend to concentrate on promulgating the science of astrology in its true spirit by lending it a logical perspective and making people aware of the fact that astrology has become much more accurate and sophisticated with the use of computer now a days.
The motto of our centre is to analyze the results of astrological studies and research and utilize them globally for the benefit of the mankind.