Sri Yantra
Sri yantra, also known as Sri Chakra, is called the mother of all yantras because all other yantras derive from it. In its three dimensional forms Sri Yantra is said to represent Mount Meru, the cosmic mountain at the center of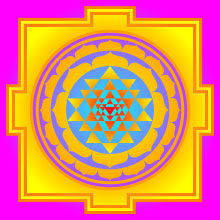 the universe.

The Sri Yantra is conceived as a place of spiritual pilgrimage. It is a representation of the cosmos at the macrocosmic level and of the human body at the microcosmic level (each of the circuits correspond to a chakra of the body).

Sri Yantra is first referred to in an Indonesian inscription dating to the seventh century C.E. It may have existed in India, its country of origin, long before the time of its introduction to Indonesia.

The Sri Yantra is a configuration of nine interlocking triangles, surrounded by two circles of lotus petals with the whole encased within a gated frame, called the "earth citadel". The nine interlocking triangles centered around the bindu (the central point of the yantra) are drawn by the superimposition of five downward pointing triangles, representing Shakti ; the female principle and four upright triangles, representing Shiva ; the male principle. The nine interlocking triangles form forty three small triangles each housing a presiding deity associated with particular aspects of existence.

Man's spiritual journey from the stage of material existence to ultimate enlightenment is mapped on the Sri Yantra. The spiritual journey is taken as a pilgrimage in which every step is an ascent to the center, a movement beyond one's limited existence, and every level is nearer to the goal. Such a journey is mapped in stages, and each of these stages corresponds with one of the circuits of which the Sri Yantra is composed from the outer plane to the bindu in the center.

The Sri Yantra is a tool to give a vision of the totality of existence, so that the adept may internalize its symbols for the ultimate realization of his unity with the cosmos.


Sri Yantra

SRI YANTRA ON SILVER (Small size)

INR 1100
USD 25

Sri Yantra is the ultimate device to get total peace and worldly success. In today's most competitive and tense life style nobody has enough time for Pooja or mediation. Then, for quick relief, you can put this Sri Yantra (made on pure silver) in pocket or purse. See it once, daily in the morning to have the blessings of Goddess MahaLakhsmi. Simple and best remedies for all routine life problems try it.

SRI YANTRA CRYSTAL SRI YANTRA


To get the never-ending stream of prosperity and happiness in life together with spiritual strength in life, This Sri Yantra is the best known, proven and easiest way to get the blessings of "Goddess Mahalakhsmi" the Goddess of weath. This Yantra is fully able to remove not only the hardships of life but also bring marked changes. Crystal is considered as the favorite thing of Goddess MahaLakhsmi.
Note: Shipping Charges will be extra.